Supplements are a great way to ensure your body is getting all the nutrients it needs to stay healthy. If you follow a vegan diet, you may find it difficult to get a variety of nutrients through the food you eat. Without dairy or milk, you could be missing out on essential vitamins and minerals, which is where a vegan supplement can step in to support you achieving and maintaining optimal health. 
Whether it's because they have an unpleasant taste or you find tablets hard to swallow, some vegan supplements can be difficult to ingest. Our range of vegan gummy vitamins makes it easier for you to get those added nutrients.  
Made without gelatine or other animal products, these tasty multivitamin gummies are chewable and available in a range of delicious flavours – taking supplements has never been easier! Plus, whether you're a vegan or not, these vegan vitamin gummies will provide you with a boost of essential vitamins and minerals to help support you and your health needs. 
Our mykind Organics range is 100% vegan. You'll be pleased to know that we have a whole host of vegan gummies available, read on to discover the Garden of Life guide to vegan gummy vitamins.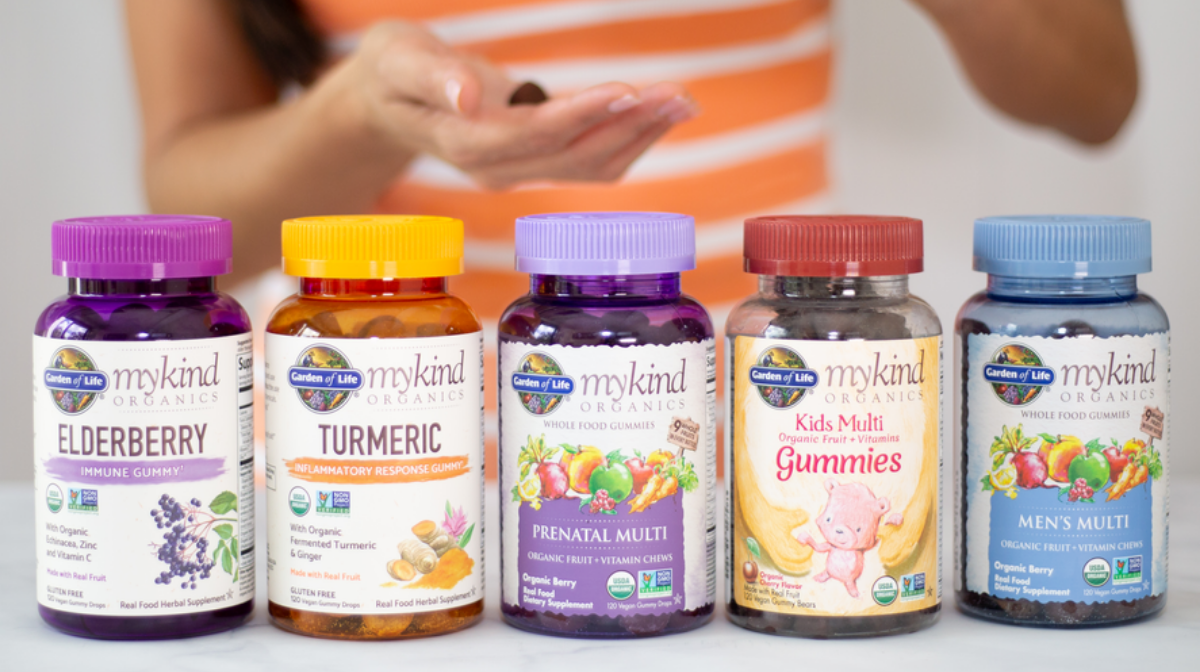 1) Multivitamin Vegan Gummies for Women
If you're looking for multivitamin vegan gummies for women, we've got the perfect option for you! Made specifically to support women's health needs, mykind Organics Women's Multi Gummies are made from whole food ingredients and packed with essential vitamins and minerals.
Containing nine different organic fruits, plus B vitamins, vitamin C, zinc and selenium, these gelatine-free vegan gummies come in a delicious berry flavour and work to boost your nutrient intake.
If you're aged 40 and above, we've also got vegan vitamin gummies specially designed for you. In one convenient chew, mykind Organics Women's 40+ Multi Gummies will provide you with an abundance of vitamins and minerals, including 800iu vitamin D3.