Supplements are a great way to ensure your body is getting the adequate nutrition it needs to stay healthy. If you follow a vegan diet, you may find it difficult to get a variety of nutrients through the food you eat. Without meat or dairy, you could be missing out on essential vitamins and minerals, which is where a vegan supplement can come in to play. 
Whether it's because they have an unpleasant taste or you find tablets hard to swallow, some vegan supplements can be difficult to ingest. Our range of Gummy Vitamins make it easier for you to get those added nutrients. 
Whether you're a vegan or not, these vegan vitamin gummies will provide you with a boost of essential vitamins and minerals to help support you and your health needs.  
Do Vitamin Gummies Work? 
It may be a popular belief that vitamin gummies are for children, and while this is a great way to convince your child to take vitamins, it doesn't mean that vitamin gummies don't work for adults.  
Our vitamin gummies are perfect for adults and a great alternative to your standard vitamin tablets.  
The same amount of vitamins and minerals can be found in gummies and they are just as optimal as regular vitamin supplements. Many people might feel hesitant to take gummies due to the belief that they contain additives and colourings. However, at Garden of Life, our gummies come from a blend of nine organic whole fruits and are free from synthetic vitamins. They are also free from processed sugars and syrups, corn starch, and pig gelatine.   
What Happens If You Eat Too Many Vitamin Gummies?
Excessive consumption of any vitamin or mineral can have negative side effects, the most common of which being an upset stomach. However, taking too much of certain vitamins can have more severe side effects, so it is always best to stick to the recommended dose provided on the supplement label. The same applies for vitamin gummies.  
Our vitamin gummies range from 1-4 servings a day to reach your desired quota. Each gummy supplement differs and targets individual needs and goals, and we also offer multivitamins for your broader all-round health and wellness. 
Here's everything you need to know about our best vitamin gummy supplements. 
Your Vitamin Gummies Guide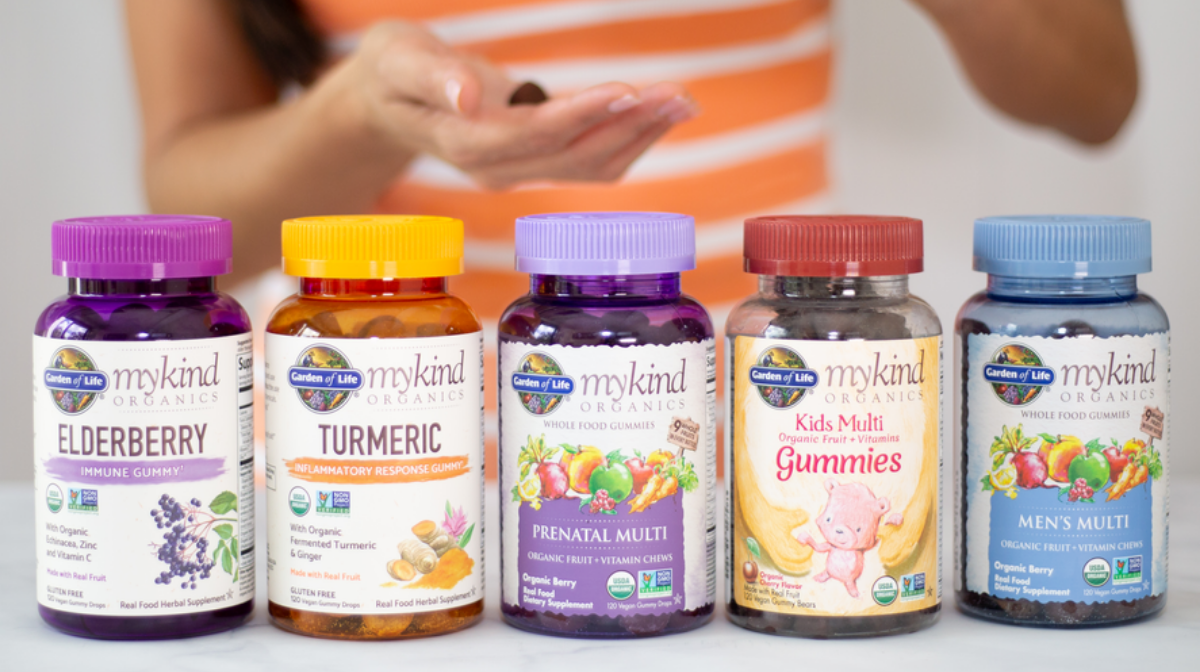 1) Multivitamin Vegan Gummies for Women
If you're looking for multivitamin vegan gummies for women, we've got the perfect option for you! Made specifically to support women's health needs, Organics Women's Multi Gummies are made from whole food ingredients and packed with essential vitamins and minerals.
Containing nine different organic fruits, plus B vitamins, vitamin C, zinc and selenium, these gelatine-free vegan gummies come in a delicious berry flavour and work to boost your nutrient intake.
If you're aged 40 and above, we've also got vegan vitamin gummies specially designed for you. In one convenient chew, Organics Women's 40+ Multi Gummies will provide you with an abundance of vitamins and minerals, including 800iu vitamin D3.