It's true what they say – breakfast is the most important meal of the day!
Not only does it fuel your body to help you take on the day ahead, but a healthy, nutritious breakfast containing brain-boosting foods will also help to encourage brain function, concentration, and focus.
First, get to know which foods can aid concentration in our article below. Try to include these brain-boosting foods at brekkie to help you kickstart your day in the best way:
From smoothies packed with blueberries to delicious overnight oats, discover our favourite breakfast recipes that will help to boost your brain power. Also, browse through our selection of brain health supplements to support your brain function further.
4 Brain-Boosting Breakfast Ideas
Start your day with these top brain-boosting breakfast ideas:
1) Blueberry Smoothie
Although small in size, blueberries are packed with a wealth of brain-boosting benefits. Containing antioxidants, blueberries can help to protect your brain cells from oxidative stress and may help to improve cognitive function.
Whether you choose to blend into a smoothie or add as a topping to your Greek yoghurt, berries are the perfect addition to your brekkie.
Get more blueberries into your diet with our tasty vegan blueberry smoothie. Made using almond milk, blueberries, pineapple, avocado, and vegan protein powder, this breakfast smoothie is a delicious way to fuel your brain for the day ahead.
2) Overnight Oats
Whole grains truly earn their status as a superfood. Not only do they help to support a healthy heart, but whole grains can also help boost brain function by encouraging healthy blood flow to the brain.
Oats are a fantastic way to incorporate more whole grains into your diet. For those short on time in the morning, overnight oats are easy to prepare the night before. Alternatively, you could try baking some healthy oatmeal muffins at the weekend, ready for you to grab a brain-boosting breakfast for when you're on the go.
To make overnight oats, you'll need:
45g oats (gluten-free oats will work just as well)
180ml milk (oat milk, almond milk, coconut milk or soy milk are all good choices)
1 scoop protein powder (approx. 1.5tsp protein powder)
Top with your favourite flavours, from brain-boosting berries to banana and chocolate. Get inspired with our top five overnight oat recipes here:
3) Eggs
Kickstart your day with the ultimate brain-boosting food: eggs. Poached, fried, scrambled or boiled, whichever way you like your eggs in the morning, you can help to boost your brain and cognitive function by eating this nutrient-filled food.
Eggs naturally contain choline, an essential nutrient that plays a role in key brain functions, including memory and mood. They also contain vitamin B12, which contributes to the reduction of tiredness and fatigue, and can therefore boost your ability to concentrate and focus.
Try making a breakfast omelette with spinach for an added boost of brain-loving nutrients. You could also make Eggs Royale using salmon to get your daily dose of omega-3 fatty acids too, as oily fish contains DHA that contributes to the maintenance of normal brain function.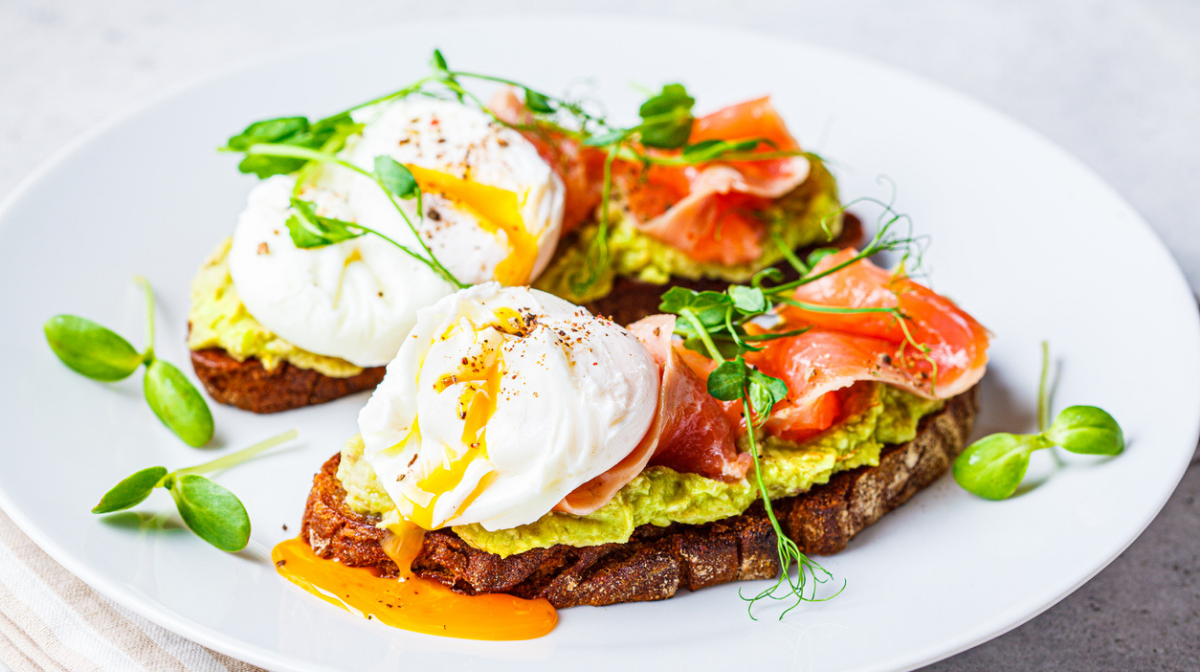 4) Nutty Breakfast Bars
Our list of brain-boosting foods would be incomplete without nuts and seeds! For an easy way to incorporate them into your breakfast routine, why not try making your own organic breakfast bars?
Made using slow-release ingredients, such as oats, nuts, honey and peanut butter, a breakfast bar is the perfect option to help you feel fuller for longer.
Make sure they contain nuts and seeds to provide you with protein and essential healthy fats to boost your brain health. Walnuts and flaxseeds are a great source of omega-3 and can help to improve concentration levels.
To make your own nutty breakfast bars, you'll need:
200g oats
125g nuts or seeds (pumpkin seeds, chia seeds, sunflower seeds and chopped peanuts would all work well)
35g peanut butter
2tbsp maple syrup
3 mashed ripe bananas
Optional: protein powder
Click below to discover the full breakfast bar recipes:
Brain Health Supplements
Following a healthy, balanced diet packed with nutritious brain-boosting foods will help to ensure you're providing your brain with the fuel it needs to function normally.
However, you may wish to give your brain health an extra boost with the support of supplements. We have a wide range of brain health supplements that have been specially designed to keep your psychological and cognitive functions at optimal health.
From magnesium powder and microbiomes to ashwagandha and omega-3 supplements, browse through a selection of our brain health supplements below: